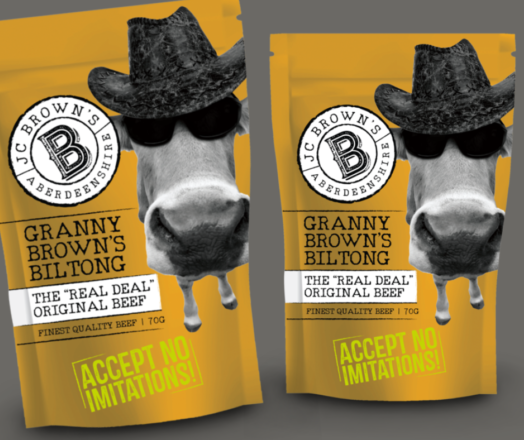 Granny Browns Biltong
The 'real deal' original beef
---
In Stock ~ Supplied FRESH
About this product
We just make it in the age old way Granny Brown put it all together. Even today, when we're surrounded by space age technology we take the time to hand prepare and grind the spices in the way it should be. Pop it in your mouth, close your eyes and think of home. This is old Mrs B's authentic and traditional South African, House Biltong, the plain one. Not that it's plain, it's a bloody fantastic 'Top-drawer' classic, produced by hand with love..

Information
Whenever there's a South African hanging about, you just know the topic of conversation won't be far away from slabs of Meat and BIltong. Now, being an obvious meat lover who's keen to try new and different things from around the world, 'Good' Biltong has always been up there as one of the tastiest snacks ever.. So, here's what's happened, we've teamed up with a local born and bred South African who's been making Biltong in the age old way for over 25 years. And here, we're proud to offer you this range of fabulous Beef & Bacon Biltongs alongside Drywors, Boerewors and Big slabs of meat all produced locally in the North East of Scotland.
Ingredients
Ingredients: Beef, Cereal (Maize, Wheat flour), Spices, Herbs, Preservative (Sodium Sulphite E221), Flavour enhancer E621 and E635, Spice extracts.
For Allergens. see ingredients in bold
Prepared from 200g Beef per 100g Biltong