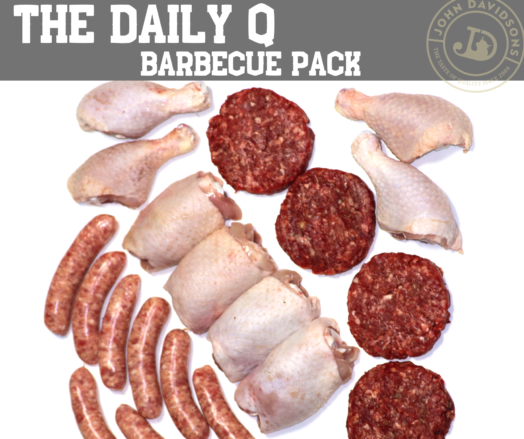 The Daily Q
---
In Stock ~ Product Supplied Frozen
About this product
Once you've broken the ice and getting into this barbecue / alfresco cooking you're going to find yourself hankering for barbecue food at various times of the day and night..
Don't wait till the weekend, throw her a spark and get cooking with this really easy to cook selection for your Daily Q Fix. If it's too much, just spread it across a couple of days. Pure magic!
With this pack, we've left the chicken fresh and unadulterated with no funky flavours and marinades so you can just add your own, as and when you wish..

---
The Daily Q Barbecue pack contains the following:
4 x Quarter-pound Steak & Onion Burgers
8 x Scottish Champion Hampshire Pork Sausages
4 x Deliciously Juicy Chicken Thighs
4 x Meaty Chicken Drumsticks