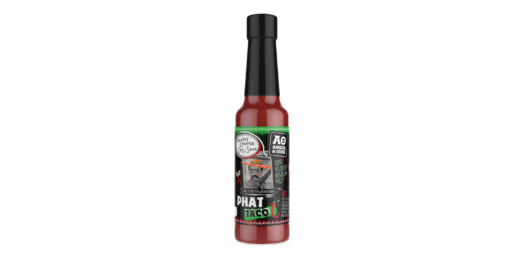 Phat Taco
---
About this product
There is depth, heat, bitter and sweet in the epic sauce. Balanced for tacos so get your taco stabilisers off and ride fast with wheels of tortillas and a saddle of lime. This sauce is incredible with shrimp, pork, chicken, fish. You can cook with it or simply add it to a taco. Try Huevos Rancheros with it and you'll open a gate way to paradise.
From Reynosa in the North to Tabasco county in the South we had such a variety of mucho tasty Mexican food from totopos to shrimp tortillas, fried fish, righteous flavours that make your mouth go boom!
Information
Phat Taco is the NEW Angus & Oink Mexican sauce that they discovered in a tasty bay side hole in the wall eating establishment in the south of Mexico, Paraiso to be precise, just north of Villahermosa . It's not too heavy on the heat but packs awesome chipotle flavour backed up by Mexican oregano, roasted pumpkin seeds and sesame seeds, garlic and sabroso!