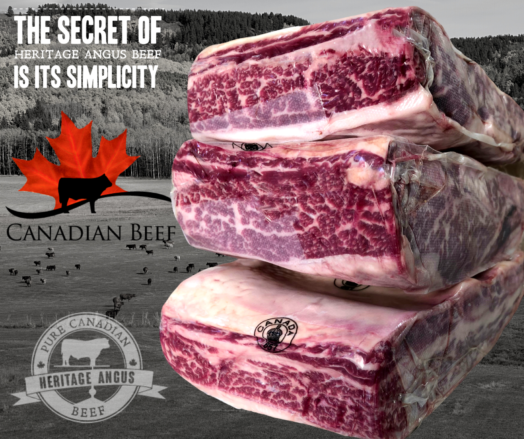 Short Ribs Canadian Angus
Pure Canadian Heritage Angus
---
In Stock ~ Product Supplied Frozen
About this product
New to us, and pretty rare to see in the UK. Pure Canadian Heritage Angus Beef fairly looks the business to me! This is beautiful looking Beef, thick and highly marbled for the ultimate eating experience. Packed 1 x 3 Bone Rack per pack, we can't wait to get them cooked.. "as we need to know what we're selling of course"!!
---
There's no point in me blurbing on about how great they are, here's what the captain says..
THE HERITAGE BELIEF
We believe that Heritage Angus Beef provides what health-conscience consumers are demanding in beef: a safe wholesome food that can be savoured and trusted.
We firmly believe that the health of the land and the health of the animal are critical to producing wholesome top-quality beef. Our cattle are outside and have access to clean water and fresh air.
We believe that the way plants, animals and people relate in a robust, sustainable environment is crucial to the flourishing and wellness of the world we all share.
We can't emphasise enough how important rock-solid family values are to us. It's the foundation of how we live our lives and how we do business. The only way we can envision a future where land and water resources are sustainably managed is by working together, in harmony with one another and with nature.
..Can't argue with that...
Information
Traceability from pasture to plate

Canadian Heritage Angus Beef
Raised without the use of antibiotics, added hormones or steroids
Raised on vegetarian feed
Humanely Raised