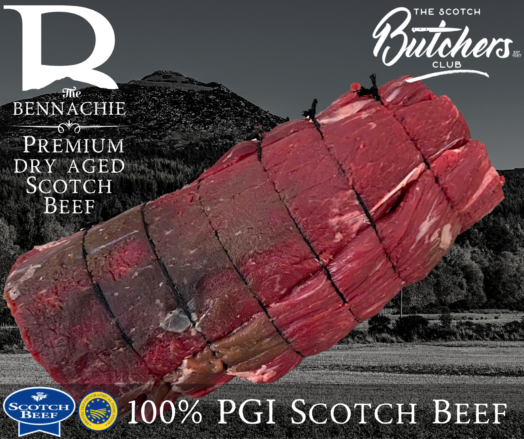 Chateaubriand Fillet Roast of Scotch Beef
---
In Stock ~ Product Supplied Frozen
About this product
Cut from the superior Head of the Fillet, this Chateaubriand is an exceptional Fillet Roast of beautifully dry aged Scotch Beef. For a simple exceptionally tender and tasty small roast, a beef wellington or even cut into steaks or kebabs, this beef is quite simply outstanding!
Information
The Bennachie Scottish Quality brand is Exclusive to John Davidsons. Created to recognise the the finest locally produced meat Scotland has to offer, each piece of meat is meticulously graded for quality, traditionally aged in our Himalayan Salt ageing chambers and processed by our professional team of professional Craft Butchers.
Prime heritage Scotch Beef
Luxurious Fillet Roast for 2 or more..
Cut from the superior Head of the Fillet

Traditionally Dry Aged and larder trimmed

Vacuum Packed and Blast frozen to lock in the freshness

We only pack these when they reach perfect maturity, taste and tenderness

Packed at their absolute perfection so we all know these are going to be great.