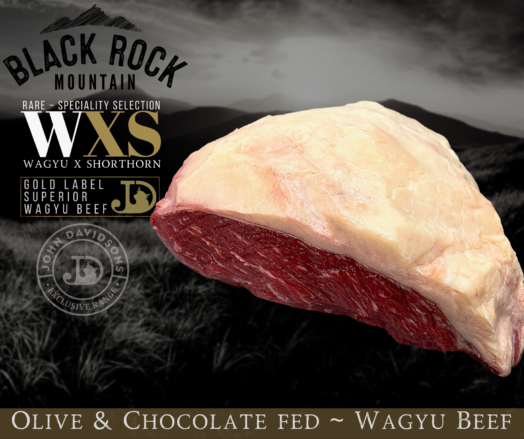 Picanha of Black Rock Mountain Wagyu GOLD
WXS GOLD ~ Superior Wagyu X Shorthorn Beef
---
In Stock ~ Product Supplied Frozen
About this product
Like Picanha? Then you're gonna lurve these bad boys. We cooked one whole as a roast recently and I cannot tell a lie... it was divine! Lovely fat and evident marbling as we would expect from such high quality beef made this a spectacular cook that was loved by everyone lucky enough to try it. Maybe next time we'll do it in the traditional South American style on skewers. We're very happy with this beef.
Information
Our exclusive "Black Rock Mountain Beef" is better known for its Heritage Angus and Hereford Beef, but sometimes we come across something just a little bit special amongst the traditional breeds we source. On this occasion we are proud to present to you, "Black Rock Mountain WXS, Superior Wagyu Beef" from the beautiful Southern Emerald Isle.
These Wagyu x Shorthorn breeds bring together the textures of Wagyu and the flavours of the Shorthorn to produce this excellent quality beef. Being grass few packs the punch in flavour with the diet supplemented by Olive feed and chocolate to provide essential nutrients and elements that contribute to the deep intra-muscular fat marbling we dream of.