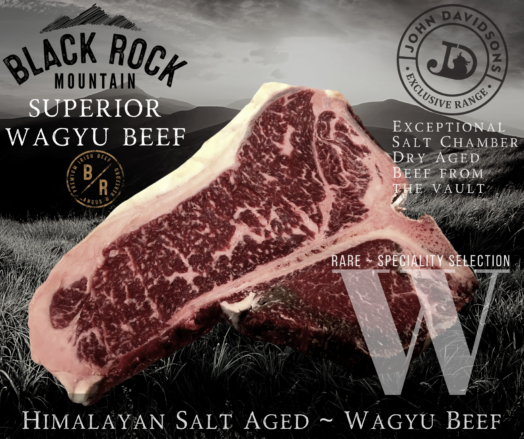 Porterhouse Steak Black Rock Mountain Wagyu
---
Currently Out Of Stock ~ Check back later
About this product
Our exclusive "Black Rock Mountain Beef" is better known for its Heritage Angus and Hereford Beef, but sometimes we pick up something just a little bit special amongst the traditional breeds we source. On this occasion we are proud to present to you, for the first time "Black Rock Mountain, Superior Wagyu Beef" from the foothills of Black Rock Mountain in the Southern Emerald Isle.
Although this is very high quality beef, we felt it would benefit from a little time in our Himalayan Salt Chamber to dry aged and intensify the deep flavours. Some weeks later and it's not only looking amazing, but smells incredible too. So, obviously.. given the sheer beauty of such beef we couldn't vouch for the eating qualities until some serious quality control testing was carried out. The resulting cook, "I can wholeheartedly announce was a resounding success and I can eat no more... well, till tomorrow!"
Information
This is our Porterhouse Steak that comes with a larger fillet than the T-Bone. Essentially the same cut but larger, so for those who are not sure the difference between the two, the Porterhouse is generally larger and the first 3-4 Steaks cut from the whole bone-in Sirloin. The next 3-4 Steaks with a smaller fillet are the T-Bone Steaks.
In the UK these cuts are often both simply sold as T-Bone Steaks but as our industry in the UK and the internet allowing access to worldwide knowledge sharing of different cuts we get many people looking for specifically one or the other. This is the reason we have chosen to adopt this clear terminology to differentiate the two.
According to the U.S. Department of Agriculture, where a tenderloin (Fillet) section that is at least 1.25 inches across at its widest point qualifies the steak as a Porterhouse. Anything between 1.24 inches and 0.51 inches makes the steak a T-Bone.
..and there you have it, simple!