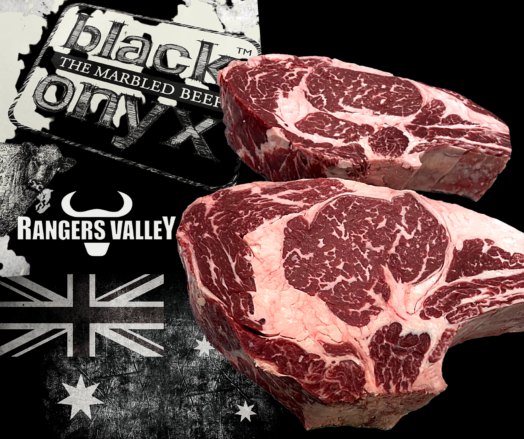 Prime Rib of Black Onyx
World Class, Black Angus Beef
---
In Stock ~ Product Supplied Frozen
About this product
When it comes to Beef the Black Onyx from Rangers Valley, highly marbled, pure Angus beef is up there with some of the best...
"Imagine biting into a perfectly prepared Prime Rib of highly marbled Black Angus beef. Think of the flavour and mouth-feel, the juiciness and tenderness that only come from a highly marbled piece of the finest cool climate Black Angus. Take that sensation, and you have the very meaning of Black Onyx".
This MB3+ Black Angus beef is raised in the cool climate of the New England Tablelands and comes from the global leaders at Rangers Valley. It's THE beef used in commercial kitchens across the world. And the one that celebrity chefs rave about ? it's The Marbled Beef that all others are compared to.