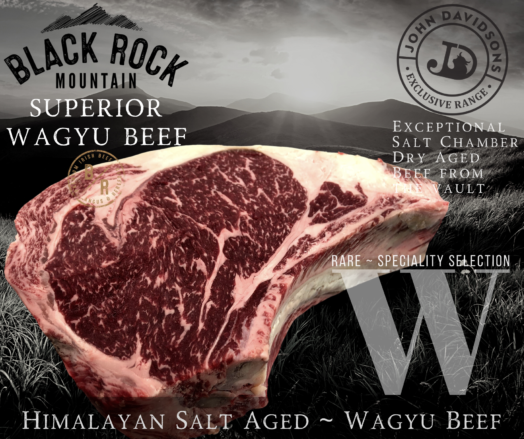 Prime Rib Steak Black Rock Mountain Wagyu
---
In Stock ~ Product Supplied Frozen
About this product
Our exclusive "Black Rock Mountain Beef" is better known for its Heritage Angus and Hereford Beef, but sometimes we pick up something just a little bit special amongst the traditional breeds we source. On this occasion we are proud to present to you, for the first time "Black Rock Mountain, Superior Wagyu Beef" from the foothills of Black Rock Mountain in the Southern Emerald Isle.
Although this is very high quality beef, we felt it would benefit from a little time in our Himalayan Salt Chamber to dry aged and intensify the deep flavours. Some weeks later and it's not only looking amazing, but smells incredible too. So, obviously.. given the sheer beauty of such beef we couldn't vouch for the eating qualities until some serious quality control testing was carried out. The resulting cook, "Fantastic!!!"
Information
OK, so we really do love our Beef but when it come to the best these huge Black Rock Mountain "Wagyu" Beef Prime Rib Steaks are up there pretty high on the chart of excellence... Succulent tender Wagyu, dripping with deep funky dry aged flavours for the connoisseurs and epicureans of the ultimate beef experience..