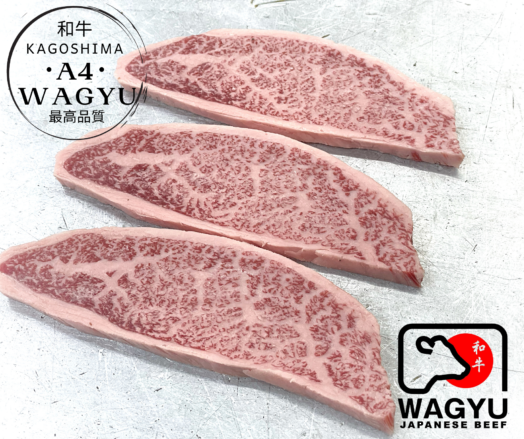 Rib Cap Steak / Yakiniku A4 Japanese Wagyu
---
Currently Out Of Stock ~ Check back later
About this product
Japanese Black Cattle, Wagyu of exceptional quality, raised on the tropical Kyushu Island in the Kagoshima prefecture, Southern Japan. The World class Kagoshima Wagyu beef we are cutting here is currently known for being the Winner of the "Wagyu Olympics", the Best Beef in Japan. The plethora of soft, buttery, intricate marbling throughout each cut is quite simply extraordinary and nothing short of mesmerising. The fat of this Wagyu is nothing like any other with its low temperature melting point that makes for the most sensational dining experience. As with most steaks we recommend cooking rare but be careful, this meat cooks very quickly and with these steaks being extremely thin I would recommend using a hot skillet or well seasoned grill so the steaks don't stick. Only a light sear is required for these.
The Rib cap Steaks we've cut here are from very high quality A4 Japanese Wagyu. We've cut the highly marbled meat thin, Yakiniku style ready for a simple touch of flame to finish. There are two steaks per pack, both equal sizes so there shouldn't be a fight for the biggest!
Whether you're a meat connoisseur or an inquisitive steak lover, you too can experience the most delectable of steaks in the world from the comfort of your own home. I personally love the simplicity and mind blowing textures from this meat.. it's just different.