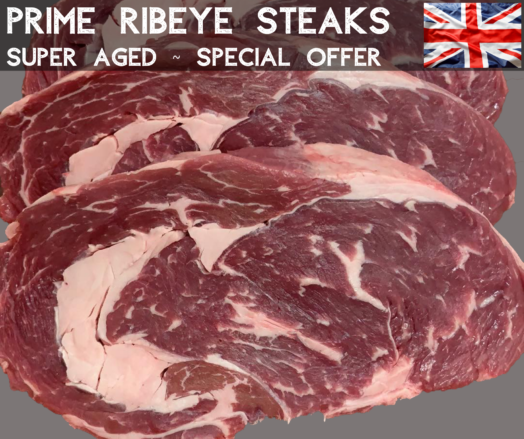 Ribeye Steak Special
VERY LIMITED SPECIAL OFFER
---
In Stock ~ Product Supplied Frozen
About this product
**SPECIAL OFFER**
This is a VERY LIMITED Special Offer. These Ribeye Steaks are seriously well aged. From one the leading suppliers of High Quality British Beef, based in Lancashire using traditionally raised, grass fed cattle to produce high quality steaks. They're ripe and ready to go with guaranteed tenderness and bursting with flavour.
This is a one-off, we produced these steaks specifically for this promotional on offer today. The limited supply won't take long to disappear so grab a bargain while you can!
ONLY £12 for 2 x 200g+ Steaks!
Information
Packed and blast frozen ~ 2 x 200g+ Steaks per pack
Top Quality traditional UK beef from a very special Lancashire based supplier
Aged to absolute perfection ~ Tried and tested
Limited stock availability