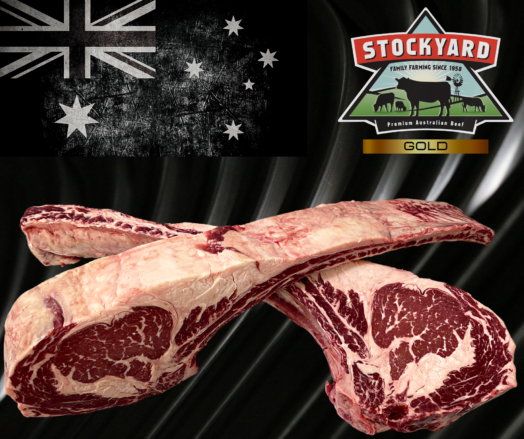 Tomahawk Steak Stockyard GOLD
---
In Stock ~ Product Supplied Frozen
About this product
Although an Internationally recognised brand most notably in Australia and the far East, Stockyard is rarely seen in the UK. Today this product is widely recognised and sought after by some fine-dining restaurants throughout the world and is renowned for its sensational taste and guaranteed tenderness.
We've been lucky enough to intercept a small quantity of The Stockyard Gold brand Premium Angus Beef Tomahawk Steaks to give you the chance to try for yourself.. We've tried it... and Yip, it's gooood!
Information
Stockyard Gold has been a consistent medal winner at branded beef competitions held in Australia over the last 20 years.
To guarantee taste, flavour and safety, Stockyard uses locally grown wholesome wheat, barley and sorghum.
Under Stockyard's Ausmeat verified "Natural Program", absolutely no growth promotants, antibiotics, animal by-products or genetically modified (GMO) feed products are used.