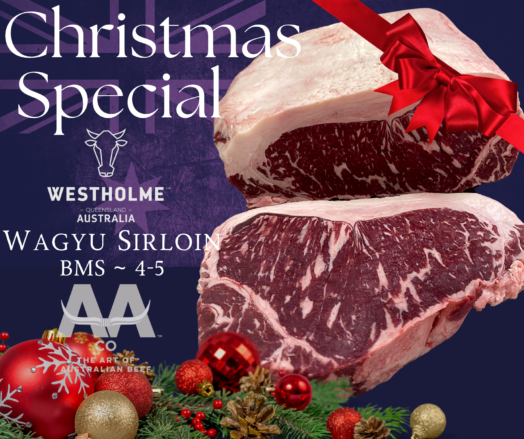 Westholme Wagyu Sirloin Christmas Special
BMS 4-5 Quality Australian Wagyu Briskets
---
In Stock ~ SOLD FRESH - Ready to go!
About this product
It's our Christmas "SPECIAL OFFER" time!
Never tried a Wagyu Sirloin before but would love to give it a go just to try the difference? Well there's never been a better time than now, so take full advantage of this Very Special Christmas Offer today with 40% OFF what we would normally charge for this beef. This is a very limited offer and each Sirloin will be shipped in a "Fresh" state - this way, if you find it a little large you can slice off a few cheeky steaks for a taster on Christmas Eve.. Also suitable for home freezing.
Westholme Wagyu Sirloin with a Beef Marbling Score 4-5 from AACO, Australia. Way better than your average bear, these are very high quality boneless pieces of Sirloin and a fantastic product oozing with plenty soft inter-muscular marbling throughout the tender beef muscle.

Information
Half Striploins of Westholme Wagyu Beef
Supplied "FRESH" as a Special Offer so you can cut your own steaks and / or cook an incredible roast for Christmas