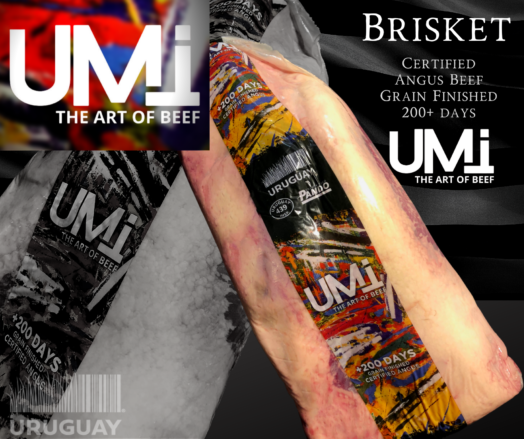 Uruguay UMI Brisket
Certified Angus Beef
---
Currently Out Of Stock ~ Check back later
About this product
The Lockdown Brisket ~ You won't get these anywhere else!
We know how you feel.. "The predicament" A fridge full of beer and a smoker at the ready. One problem.. you can't invite your family and friends round help eat a whole Brisket. Well, I think we may have the perfect solution. We've searched the world for something that'll make you smile, crush those Brisket Blues without having to eat a whole 14 pounds of Brisket within a few days in every dish imaginable!
So, let me introduce you to the UMI Brisket all the way from Uruguay, South America. These are specifically produced for us, they're produced from certified Angus cattle and Grain Fed for a minimum of 200 Days+. Beautiful soft buttery fat that just needs trimmed about 20%, maybe a bit more if you want so not unlike many others of the same quality. Beautiful marbling through the point end and more subtle down through the flat.

Now here's where it gets interesting.. These Briskets are from smaller heritage animals and squared up well so there's little in the way of spare thin flat tail meat or thin edges. The Briskets hence are small but plump, meaty and ideal for home cooking when you don't want to be eating Brisket for evermore. With each Brisket weighing in at between 3 to 5Kg this makes them a very accessible "Top Class Brisket" any Barbecue enthusiast can afford.