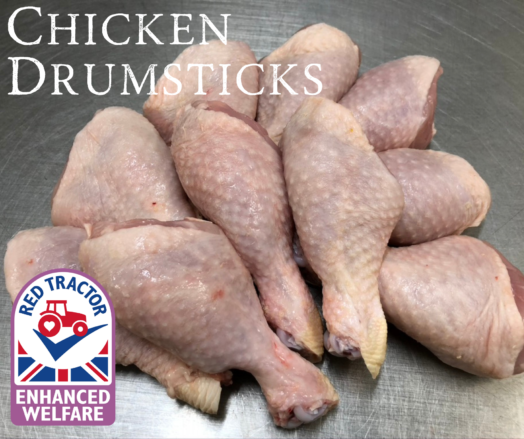 Chicken Drumsticks UK Enhance Welfare
UK Red Tractor - Enhanced Welfare
---
In Stock ~ Product Supplied Frozen
About this product
Delicious, Red Tractor certified, UK produced Chicken Drumsticks that have been hand selected for the best quality and value. These are just so tasty - if you know what I mean - you just know what I mean, that tender, juicy brown leg meat really is as good a flavour as anything! These are a fabulous product for the barbecue, try brining, hit with a bit of dry rub and roll in smoke until cooked throughly. You'll be delighted with the result!
Information
Premium Grade - Produce of the UK
Red Tractor - Enhanced Welfare certification
Hand Selected for quality, flavour and freshness
All vacuum packed in 10's
Blast frozen super quickly to lock in the freshness
Thaw easily and quickly
Top Quality Chicken delivered direct to your door

Cooking Tips
Store fresh Chicken products separate from any gravy, stuffings or raw food ready to eat, preferably in a sealed container to avoid cross contamination.