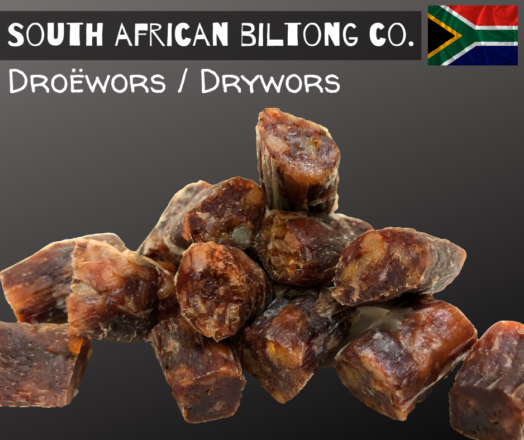 Drywors Droëwors
---
In Stock ~ Supplied FRESH
About this product
This is it.. Drywors or Droëwors, call it what you want but we call it magic! All hand made with a mix of 'top quality', 'hand selected' meat cuts and very special fat that melts like gold butter. A truly authentic recipe and absolutely stunning finished product. Be warned though, one bag just isn't enough!
Information
Whenever there's a South African hanging about, you just know the topic of conversation won't be far away from slabs of Meat and BIltong. Now, being an obvious meat lover who's keen to try new and different things from around the world, 'Good' Biltong has always been up there as one of the tastiest snacks ever.. So, here's what's happened, we've teamed up with a local born and bred South African who's been making Biltong in the age old way for over 25 years. And here, we're proud to offer you this range of fabulous Beef & Bacon Biltongs alongside Drywors, Boerewors and Big slabs of meat all produced locally in the North East of Scotland.
Ingredients
Ingredients: Beef, Salt, Cereal (Maize), Mustard, Dextrose, Cumin, Chilli, Acidity regulator E330, Spice extract (including Celery), Parsley, Flavour enhancer E621 and E635.
For Allergens. see ingredients in bold
Prepared from 200g Beef per 100g Biltong