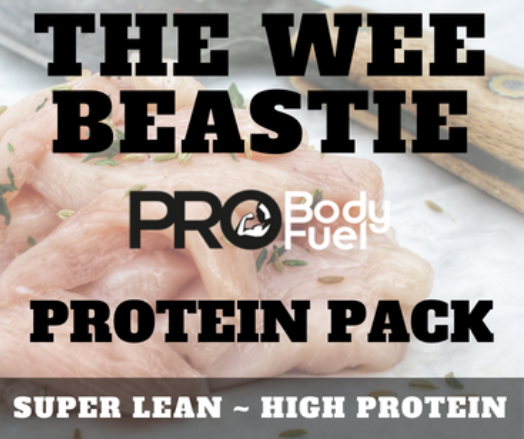 THE WEE BEASTIE ~ Protein Pack
---
In Stock ~ Product Supplied Frozen
About this product
This no-nonsense Bulk-Buy pack is packed full of goodness. Aimed at high protein intake diets across all levels of fitness and body building. Due to the extremely Low Fat content of the meat in this pack it is ideal for the slimmers of the world or those just wishing to cut back on fat intake without substituting on flavour.
Information
This is THE WEE BEASTIE, including OVER 2Kg of the Amazing ULTRA LEAN Piedmontese Beef.. loads of Chicken, marinated in our professional range of health conscious marinades, Burgers, Sausages and remember, Its ALL GLUTEN FREE as standard, Low Fat, Tasty & Tender.
2 x 400g packs of Piedmontese Beef Sausages
4 x 200g packs of Piedmontese Beef Strips
2 packs of 2 x 113g Piedmontese Steak Burgers
1 x 2.5Kg Chicken Fillets
1 pack of 2 x 113g / 4oz Deluxe Chicken Burgers
1 pack of 4 x 100g Garlic Chicken Skewers
1 pack of 4 x 100g Mediterranean Chicken Skewers
1 x 200g packs of Dry Cured Turkey Bacon
2 x 250g packs of Lean Topside Steak Mince
2 packs of 2 x 100g Beef Minute Steaks
1 pack of 4 x 100g Lean, Chilli Pork Steaks
1 pack of 2 x 113g Lean, Pork & Apple Burgers
ALL THIS FOR ONLY £69.99
plus FREE DELIVERY!!
---
You won't be disappointed..
Ultra Lean Beef ~ Less than 1% Fat - That's LEANER than Chicken!
Ideal for Athletes, Bodybuilders and the Health conscious
BULK PACK ~ Super Saver deal
Low Cholesterol
Protein rich
High in Omega 3