Chicken Kebab Sweet Indian ~ LOW FAT
£6.99
Description
These very popular Chicken skewers consist of completely de-fatted and skinless Chicken Breast meat and a small quantity of our rich, tasty Indian marinade which ensures the maximum health benefits can be obtained from this wonderfully versatile and meaty product.
Oven baked or Grilled on the Barbie these are a simple, high protein, low fat food thats great in a baked potato, with rice or slammed into a Pitta bread with salad and sauce of your liking.
Information
100% White Breast Meat only
Specially selected for succulence and flavour
Marinated in our most popular, sweet Indian marinade
Gluten Free
Chicken meat is a great source of Iron, Zinc, vitamin B6 and niacin (vitamin B3), which are both essential for the body's metabolism and energy production while maintaining the immune system and blood sugar maintenance.
Also found in Chicken is Biotin (vitamin B7) which helps cell growth and vitamin B12 which is essential to nerve cell and blood cell maintenance.

Nutrition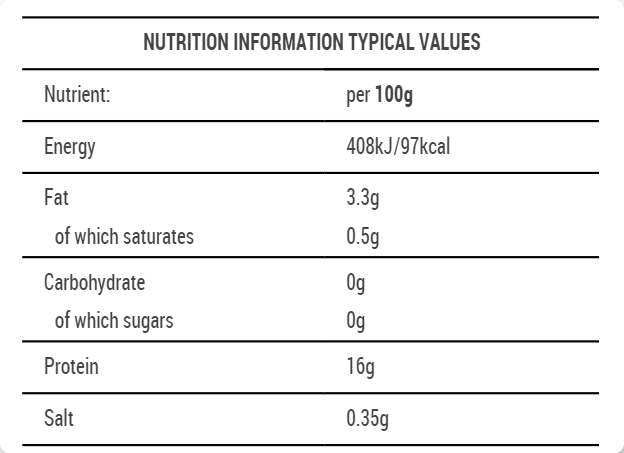 Ingredients
Chicken (96%), vegetable oils (rapeseed, sunflower, linseed), vegetables (onion, bell pepper, garlic, leek), salt, spices (turmeric, pepper, paprika, chillies, ginger, coriander, cardamom, fenugreek, cumin), natural flavourings, turmeric extract, lovage.