Piedmontese Taster Pack
To purchase this Bulk Taster Pack out-with this promotion would cost 50% more!!!
---
The Piedmontese - Ultra Lean Beef, Taster Pack. This amazing Beef producing breed is renowned for it's capabilities of producing, what is widely regarded as the Leanest Beef in the World. Originating from the Piedmont area of North West Italy these animals have long been recognised for there soft, tender meat that digests far more easily than regular beef. These are the attributes that are attracting the attention of people across the country looking for specialist meat to rival all other lean meats in the fitness, bodybuilding and health & wellbeing markets.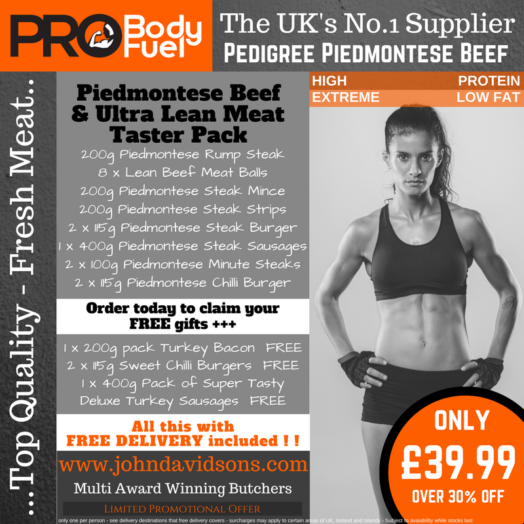 Information
This AMAZING Value, Ultra LEAN Meat Pack contains the following:
200g Piedmontese Rump Steak
8 x Lean Beef Meat Balls
200g Piedmontese Steak Mince
200g Piedmontese Steak Strips
2 x 115g Piedmontese Steak Burger
1 x 400g Piedmontese Steak Sausages
2 x 100g Piedmontese Minute Steaks
2 x 115g Piedmontese Chilli Burger
+++ order today to claim your FREE gifts +++
1 x 200g pack Turkey Bacon  FREE
1 x 400g Deluxe Turkey Sausages  FREE
2 x 115g Sweet Chilli Burgers  FREE
ALL THIS FOR ONLY £39.99 including FREE DELIVERY
---
Ultra Lean Beef ~ Less than 1% Fat - That's LESS than Chicken!
Ideal for Athletes, Bodybuilders and the Health conscious
Low Cholesterol
Protein rich
High in Omega 3
In Stock ~ Product Supplied Frozen
You May Also Like