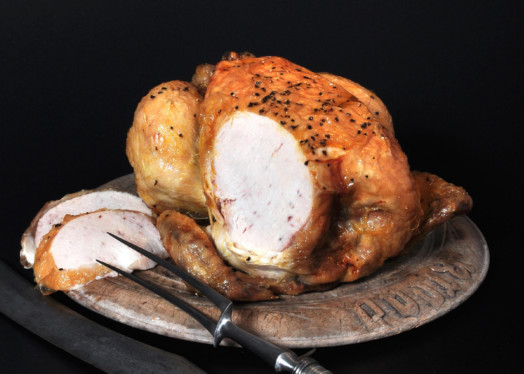 Christmas Cockerel
Often referred to as a Capon..
---
In Stock ~ Product supplied Fresh
Please Note
Limited availability
Mail-order: despatch 21st December for delivery 22/23rd December ONLY
Local Delivery: from 21st - 24th December.
Collection in-store: from 21st - 24th December.
Collections must be before 12 midday Christmas Eve.
About this product
IMPORTANT, Please note: Due to the nature of this Seasonal item we can only supply by mail order to customers requiring a delivery service, despatching 20th & 21st December with delivery 21st - 23rd of December. Please be mindful that you may be in a two day delivery service area and due to extreme pressures your order may be delivered on the day after the day you have requested.Collection in-store option will be available from 21st to 24th December.
---
These delicious, slow-grown Cockerels are sourced from one of the most highly commended Poultry producers in the UK. Larger than a usual chicken, these tasty big birds are packed full of flavour and succulence, ideal for the larger family gatherings and a great traditional alternative to Turkey at Christmas.

---
Serving guide is average, depending on portion size

2.80Kg (6.5Lbs+) Serves 6+
3.80Kg (8.5Lbs+) Serves 8+
4.80Kg (10.5Lbs+) Serves 10+
Information
Slow grown Cockerel
Tender and succulent alternative to Turkey
From Yorkshires Finest Chicken Producer
Traditional flavour
Succulent and tasty