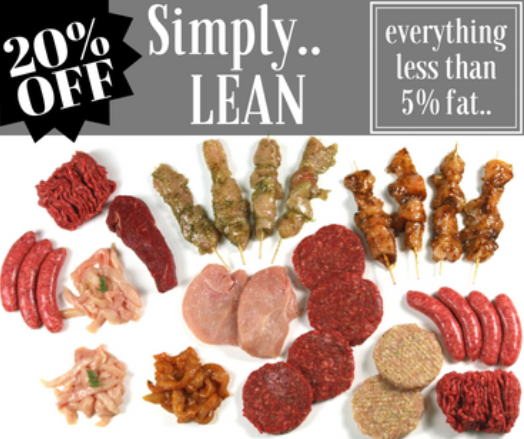 Simply Lean
---
In Stock ~ Product Supplied Frozen
About this product
Check out this cracking pack, produced for you because, this is what you asked for! Everything is Low Fat and all packed with protein. The following items are delivered to you frozen in manageable quantities for ease of planning. The blast freezing process does not affect the produce in the same way as slow freezing at home. This process does not affect the quality, infact you can be assured of 100% freshness every time!
SAVE OVER 20% TODAY
was £56... NOW ONLY £44!!
& have this pack delivered directly to your home or place of work..
---
This pack contains the following:
1 x 168g 'Super Lean' Sirloin Steak ~ Completely de-fatted
2 x 150g Freshly cut chicken breast meat strips
NEW PRODUCT 1 x 150g Freshly cut Honey Chilli chicken Stir-fry breast meat strips
2 x 113g Chicken Supreme Burgers ~ Extremely LOW FAT but delicious too
2 x 200g Lean Steak Mince ~ At under 5% Fat, this is exceptional value
7 x Low Fat Beef Sausages ~ 400g of Proper handmade, Butchers Quality <4% Fat
NEW NEW PRODUCT 4 x 100g Tasty Garlic & Herb Chicken Skewers ~ Low Fat <4% Fat / 100% Flavour
NEW PRODUCT 2 x 170g Super Lean Turkey Steaks
4 x 100g Mediterranean Tomato Salsa Chicken Skewers ~ Low Fat <4% Fat / 100% Flavour
4 x 113g Quarter-pounder Steak Burgers ~ 2 per Pack
Information
This feast of Low Far flavours is priced to SELL, with over 20% OFF right from the start and given the quality of produce supplied... You won't go far wrong adding this to your regular shopping list!
NOW IMPROVED with more of the products you requested.
COLLECTION SERVICE PROVIDED AT OUR STORES IN ~ ABERDEEN, INVERURIE & ELGIN