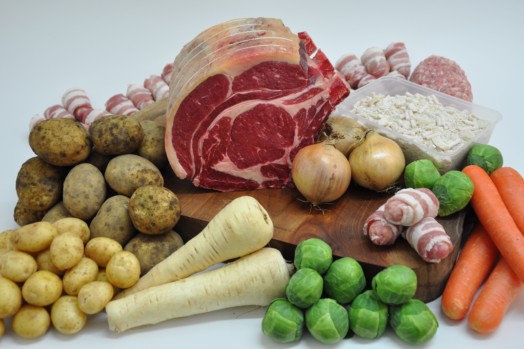 Rib Roast Hamper Meal Deal Special
---
In Stock ~ Product Supplied Frozen
About this product
IMPORTANT, Please note: Due to the nature of this Seasonal item we can only supply by mail order to customers requiring a delivery service, despatching 18th December for delivery 19th of December.

Collection in-store option will be available until 12 noon on 24th December.
"Everything will be supplied fresh with a suitable dates for cooking on Christmas Day, however it is recommended that the sausage meat and chipolatas are frozen on receiving the order to ensure freshness, everything else will be perfect kept in a cold refrigerator".

---
We've put all the ingredients you need into one handy Hamper selection box. With enough to feed up to 8 people (depending on portion size) - we've saved you the time and effort of shopping for Sunday Dinner. With everything from the Extra Mature Rib roast to the veg, stuffing and Pigs in Blankets, all you need to do is make the gravy!
Your Hamper will contain:
1 x 3Kg Carvery Rib Roast
2 x 12 Kilted Pork Chipolatas
1 x 400g Oatmeal Stuffing
1 x 450g Pork Sausagemeat
1 x 2kg Bag of White Potatoes
1 x 1kg Baby Roasting Potatoes
1 x 700g Bag of Carrots
1 x 500g Bag of Parsnips
1 x 400g Bag of Onions
1 x 500g Bag of Brussel Sprouts
Information
Christmas Hamper
Extra Mature Carvery Rib Roast
Fresh Local Vegetables
Oatmeal Stuffing
Sausagemeat
Pigs in Blankets