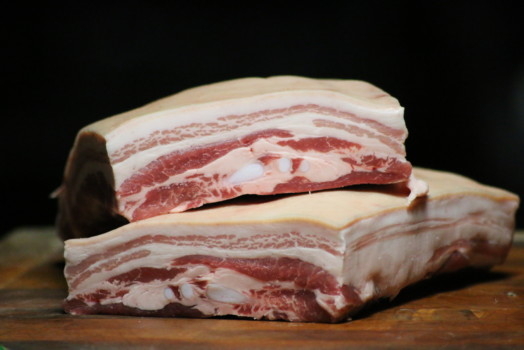 Duke of Berkshire ~ Pork Belly
---
In Stock ~ Product Supplied Frozen
About this product
The Duke of Berkshire is an authentic, old English pig produced by crossing Large White with an ancient Oxfordshire breed. Both breeds stand for high quality and together create this unique pig of outstanding quality. The mood of the animal plays a significant role in the delicate taste of these pigs, where animal welfare, sustainability, transparency and traceability in terms of provenance - are directly reflected in the taste and quality of the meat.

In combination with superior pig feed the very distinct genetic properties of the Berkshire breed, having narrower and finer muscle fibres and a generous layer of soft exterior and intra-muscular fat that provides excellent, tender meat with a delicious mild flavour.
The Duke 0f Berkshire offers excellent meat quality for discerning chefs and connoisseurs of fine meat produce.
Please note that due to supply and demand constraints associated with this Pork it can be in very limited in availability at times. At any given time we may only hold a small amount of this very special pork although a pre-order may be made for anything we might not have on-site. If you know what you want then please just give us a call.
Information
Extremely High Quality, rare breed Pork Belly joint
These are Whole trimmed Bellies
Portioned and blast frozen to lock in the ultimate freshness
The highest animal welfare standards
Sustainable
Tender and Delicious