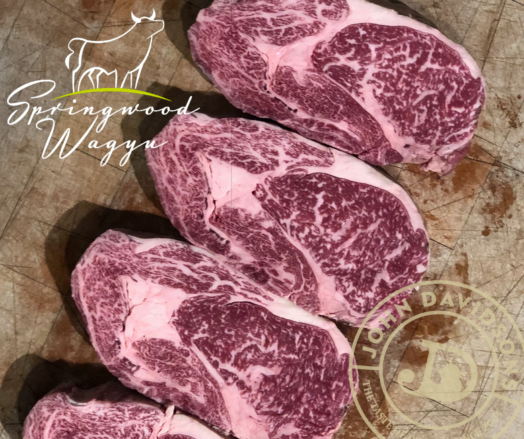 Wagyu Ribeye Steak Springwood
Premium Wagyu from Aberdeenshire
---
Currently Out Of Stock ~ Check back later
About this product
Fabulous quality, aged Wagyu Ribeye Steaks from Springwood Wagyu, Udny, Aberdeenshire. Probably the best quality Aberdeenshire Wagyu beef available today. We've been cooking these steaks for a few months now and built enough stock for us to now offer them online to buy right here. Tried tested and passing all the tests with great results, these premium Wagyu Steaks are well worth the money and we're sure you're going to love them too!
Information
Springwood Wagyu from Aberdeenshire Scotland
Flavoursome tender Ribeye Steaks
Highly marbled in keeping with the characteristics of the breed
All steaks are pre-cut and singularly packed
Blast frozen at their prime to keep them in the best possible condition
Amazing eating experience
Cooking Tips
For best results, remove from packaging and place on absorbent paper in fridge overnight to thaw. Remove steak from fridge and keep at room temperature for about 30 minutes prior to cooking. Best cooked rare - med rare... Enjoy!