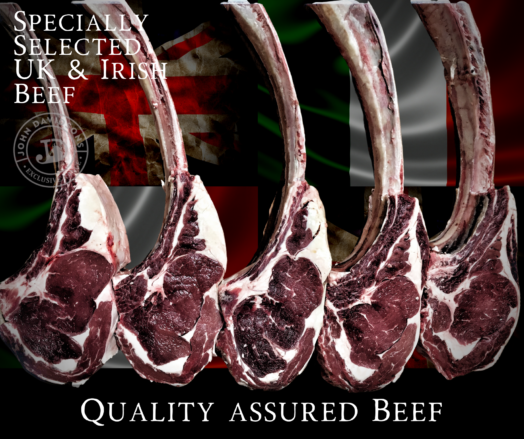 Tomahawk Steaks UK / Irish
---
In Stock ~ Product Supplied Frozen
About this product
These are super Heritage Beef Tomahawk Steaks. Beautifully aged Ribeye Steaks on the Bone, a Big Long Bone at that! Don't worry though, you're not paying extra for the bone with these, It's all show!! We butchered these for years, deconstructed for costing purposes to see how they turned out and basically the Ribeye is what you're paying for, the bone is just attached. If we reduced the amount of bone or even completely removed it, the price per steak would be exactly the same, it would just work out at a higher price per Kg.
So now you understand the "Tomahawk" and how it's priced, give it a go and enjoy the Wow factor! Who doesn't like a bone to gnaw on?
Information
These Steaks really are very nice and quite impressive! We've personally tried a few and they were excellent. We'd just served up smoked Brisket Tacos, Sausage and Burgers for the kids then after a while we brought out the Tomahawks. After a quick cook and rest they were carved up into some of the tastiest finger food pieces ever! Alongside a nice glass of Wine, Beer or Water if you must these were seriously good and a highlight of the evening. Enjoy!