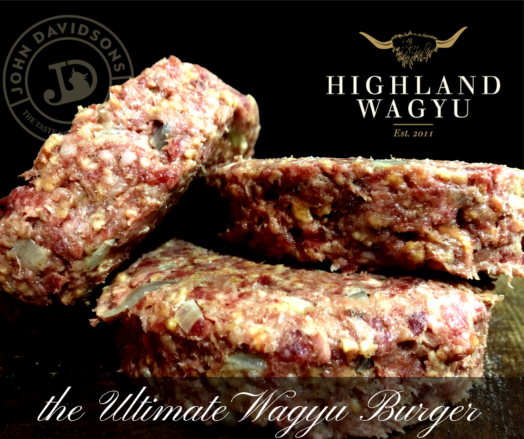 Ultimate Deluxe Wagyu Steak Burgers
---
In Stock ~ Product Supplied Frozen
About this product
To make an amazing Burger, you need to start with an amazing product.. Highland Wagyu is our meat of choice here, using only carefully hand selected cuts with just right ratio of fat to meat to keep these burgers as succulent as you'll have ever had. So, we then go about creating the ultimate, deluxe Burger. For this we wanted a recipe completely different, one that would show off the quality of the meat itself. After trolling through the hundreds of recipes.. there was only one that stood out from Scotlands most highly acclaimed chefs Tom Kitchin.
The Burger meat is simply mixed up with the fresh herbs, spices, finely chopped onions, eggs and dash of cream to create this, the Ultimate Deluxe Burger.. just WOW!!
Information
Prime F2 Scottish Wagyu from Highland Wagyu, Perthshire
Producers of possibly the Best Beef in the UK
Probably the Best Burger in the World by Tom Kitchin
Sensational flavour and texture
All freshly prepared ingredients
Blast frozen when in perfect condition to lock in the intense flavours
Ingredients
Wagyu Beef, Onion, Garlic, Egg, Pea Protein, Cream, Salt and Spices.
Allergens in BOLD