Beef Caramelised Onion and Cracked Black Pepper
£6.60
In stock
Description
500g Pack
Remember to buy enough of these as they just seem to disappear – Our traditional beef sausage with Caramelised Onion Chutney and Cracked Black Pepper. Meaty, succulent and packed full of flavour. Suitable for pan-frying , grilling, oven or try them on the Barbie with a bit of smoke to take these beauties to another level of awesomeness!
Information
NOTE: This product was previously Gluten Free. Due to ingredients shortages this Sausage is now unsuitable for those with a Gluten Intolerance.
Nutrition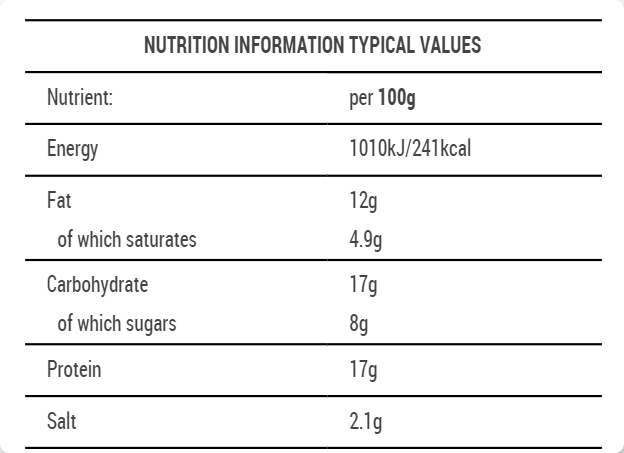 Ingredients
Ingredients: Beef (63%), Pea Flour, Pea Flakes, Salt, Rice Flour, Stabiliser (E450), Dextrose, Preservative (E221), Acid (E330), Yeast Extract, Antioxodant (E300), Spice Extracts (Pepper, Nutmeg, Coriander, Pimento), Colour (E120), Caramelised Onion (Onion (45%), Sugar, Spiced Malt Vinegar (Malt Vinegar (BARLEY), Malt Extract (BARLEY), Spices), Dates (contains Rice Flour), Apple (contains Preservative: Sodium METABISULPHITE), Dried Apple (contains Preservative: SULPHUR DIOXIDE), Rapeseed Oil, Salt, MUSTARD Flour, Chilli Powder) Water, Spices.

Contains: GLUTEN, SULPHITE, MUSTARD, BARLEY