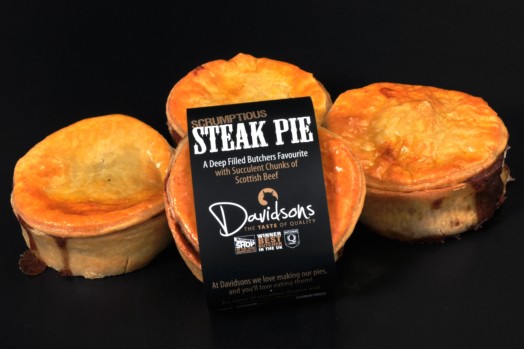 Steak Pie Round
---
In Stock ~ Supplied Frozen
About this product
Our Round Steak Pies are full of deliciously tender chunks of prime steak, slow cooked in gravy and surrounded by light and crisp shortcrust pastry. Topped off with a buttery puff pastry lid, these pies are ideal as a snack or part of a mid-week supper. Baked fresh in store daily and fully cooked, they require only a gentle reheat in the oven to enjoy them at their best.
Information
Tender chunks of prime beef in gravy
Shortcrust pastry shell
Topped with Buttery Puff Pastry
Baked fresh instore daily
Generous individual serving
Nutrition Information
Ingredients: Steak 44%, water, gravy salt, Wheat flour, margarine, emulsifier (E471).