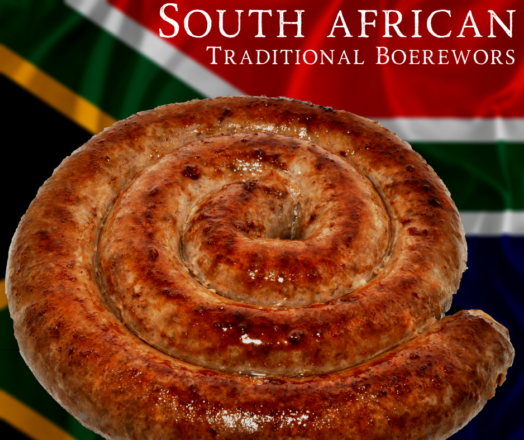 Boerewors Sausage
---
In Stock ~ Product Supplied Frozen
About this product
If you've never tried Boerewors before, then here's your chance. Using an authentic South African recipe, we hand grind the spices freshly for these traditional Boerewors Sausages to maximise the amazing flavours they are renowned for. If you enjoy outdoor cooking on a Braai or wood fired barbecue this is a must.
Information
Authentic South African recipe
Spices freshly ground by hand
For best results Barbecue, Grill or Braai
Nutrition Information
Ingredients: Beef 48%, Pork 36%, Pea flakes, coriander, black pepper, clove, nutmeg, spices, vinegar, water, herbs, preservative (E221), antioxidant (E300), Worcester sauce (Malt Vinegar (from BARLEY), Spirit Vinegar, Molasses, Sugar, Salt, Anchovies, (FISH), Tamarind Extract, Onions, Garlic, Spices, Flavourings.
Allergen advice: Contains~ Sulphite, Fish, Gluten