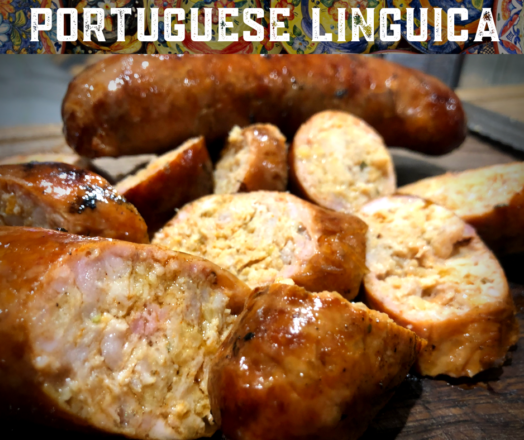 Portuguese Linguica Sausage
Recommended Smoking Sausage.
---
In Stock ~ Product Supplied Frozen
About this product
This is our version of the Portuguese sausage 'Linguica'. Prepared with carefully selected cuts of juicy Chicken and Pork, marinated in our special spice mix with Red Wine, garlic, tomato and paprika. Specifically produced into chunky thick sausages make them ideal for the Barbecue. Lob in a chuck of wood and cook indirect allowing the sausages to cook slowly while soaking up a little smoke. Once cooked, cut diagonally to produce tasty finger food fit for a king..
Ingredients
Chicken (38%), Pork (38%), Water, Sausage Seasoning (Salt, Rice flour, Stabiliser E450, Dextrose, Preservative
E221, Spices (white pepper, nutmeg), Stabiliser E450, Flavour Enhancer E621, Antioxidant E300, Spice Extracts (pepper,
nutmeg, coriander, cayenne)), Pea flake, Red Wine Vinegar, Chilli Powder, Piri Piri Seasoning (Salt, Sugar, Black pepper,
Onion, Smoked Paprika, Oregano, Cumin, Orange Granules, Tomato Granules, Chilli, Garlic, Celery Salt, Flavour Enhancer E621, E631)
Contains: CELERY, SULPHITE