Cajun Chicken Fillets
£4.99
In stock
Description
Full on flavour with our Cajun Chicken fillets. Super Low Fat and bursting with spicy flavour, try cooking these down and adding to salad filled wraps for simple snacks. They're great and you can chop them up to make your own kebabs too!
Information
Low Fat from The Lean Butcher
100% Chicken Breast meat only
300g Pack (2 x 150g)
Protein rich, this is a great start when incorporated as part of a calorie controlled diet.
Chicken meat is a great source of Iron, Zinc, vitamin B6 and niacin (vitamin B3), which are both essential for the body's metabolism and energy production while maintaining the immune system and blood sugar maintenance.
Also found in Chicken is Biotin (vitamin B7) which helps cell growth and vitamin B12 which is essential to nerve cell and blood cell maintenance.
Blast frozen to lock in the freshness
Nutrition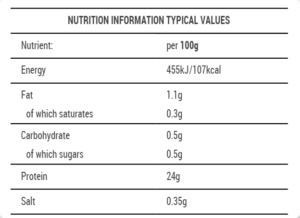 Ingredients
Chicken Fillet (98%), Cajun Seasoning (2%) [Sugar, Salt, Smoked Paprika, Black Pepper, Ancho Chilli, Green Jalapeno, Chipotle Chilli, Thyme, Onion, White Pepper, Garlic, Sage, Bay, Celery Salt (CELERY).
Contains: CELERY
Cooking Tips
Add this cooked product to almost any dish you want. Chop and serve over a Salad, slam into a roll or wrap, load out with salad and / or vegetables and sauce up for something spectacular.
For best results, allow to thaw overnight in the fridge and cook within 48 hours.
Pan fry, grill or barbecue. All you got to do is cook thoroughly to a core temperature of 75ºC. Remember the rhyme (75 Stay Alive)