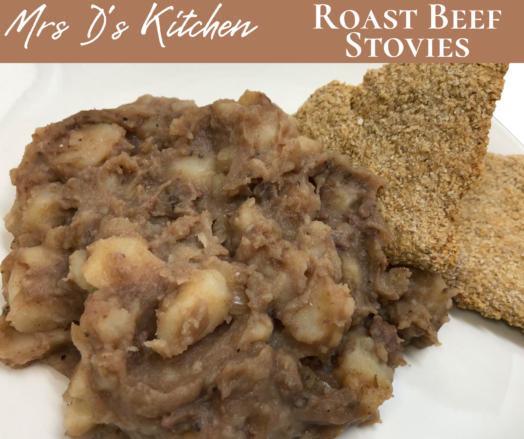 Roast Beef Stovies
---
In Stock ~ Product Supplied Frozen
About this product
Traditional Scottish Stovies, the same family recipe that been haded down through the generations. We've made tonnes over the years, loaded with chunks of prime selected Beef, potatoes and onions being the main ingredients. They're lovely, especially with oatcakes, pickled beetroot and a pint of milk.
Information
400g Serving to feed 1-2 people depending on appetite and sides.
To Cook:
Packaging is Microwave and ovenproof.
Oven: Cook in a pre-heated oven at 180c for 25-30 minutes.
Microwave: Remove lid and cook on full power for 3-4 minutes stiring half way and ensure the product is piping hot.
Frozen: Allow to thaw prior to reheating as above.
Ingredients
Ingredients: Beef 16%, Potato, Onion, Beef dripping, Wheat Flour (with added Calcium, Iron, Niacin, Thiamin), Salt, Maize Starch, Yeast Extract, Flavour Enhancers (Monosodium Glutamate, Disodium Guanylate), Colour (Ammonia Caramel), Beef Fat (4.5%), Autolysed Yeast Extract, Dried Beef Bonestock, Flavourings, Sugar, Acidity Regulator (Lactic Acid), Onion Powder.