Chicken Strips Honey Chilli – LOW FAT
£3.49
In stock
Description
200g Pack
Only selected cuts of Chicken Breast Meat is butchered and hand sliced and marinated in our Honey Chilli Seasoning by our team of master butchers. A tasty and low fat protein rich meat to add some great flavour to your stir fry!
Information
Freshly Sliced 100% Chicken Breast meat only
Healthy Low Fat alternative to Beef and Lamb
Honey Chilli Marinade
Use in your favourite family recipes
Great for making Stir-fry
Chicken meat is a great source of Iron, Zinc, vitamin B6 and niacin (vitamin B3), which are both essential for the body's metabolism and energy production while maintaining the immune system and blood sugar maintenance.
Also found in Chicken is Biotin (vitamin B7) which helps cell growth and vitamin B12 which is essential to nerve cell and blood cell maintenance.

Nutrition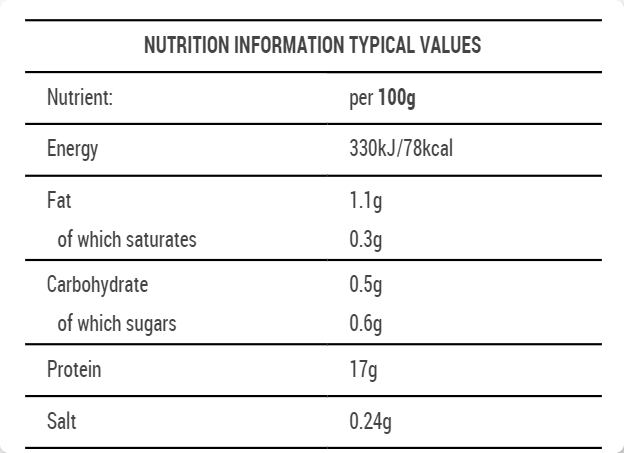 Ingredients
Chicken (96%), Salt, Sugar, Red pepper, Onion, Smoked paprika, Garlic, Fennel, Coriander, Anise, Cinnamon, Cloves, Chilli, Turmeric, Citric acid, Honey powder, Anti Caking – Silicon dioxide. E621, E631