El Gordito – Argentine Chorizo Sausage
£6.60
Only 15 left in stock
Description
500g Pack
This Argentine Chorizo is a lovely sausage. Bursting with flavour and with not being spicy it's an all-round winner with the whole family. Another fantastic base seasoning from Angus & Oink is used here.. then we add the magic! Here's where the A&O inspiration came from for this lovely blend.
"This Argentine chorizo comes from weekends spent in the parks around Buenos Aires with a red wine hangover!! Street vendors would sell a paprika and garlic laden sausage stuffed into a choripan (bread roll) and covered in chimichurri"
A beautiful pork sausage, no heat but plenty of meat!
Information

Nutrition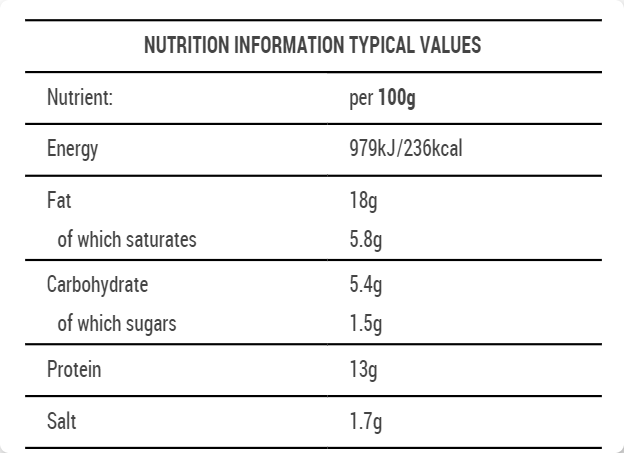 Ingredients
Pork (72%), Salt, Rice flour, Stabiliser (E450), Dextrose, Preservative (E221), Spices (white pepper, nutmeg), Stabiliser (E450), Flavour Enhancer (E621), Antioxidant (E300), Spice Extracts (pepper, nutmeg, coriander, cayenne, (Thyme, Lemon, Coriander, Caraway, Bay, Basil, Celery salt (Celery), Oregano, Onion, Black pepper, Sugar, Garlic, Paprika, Smoked paprika, Brown Sugar, Flavour Enhancer (E621), (E631), Pea Flakes, Pea Flour, Water.

Contains: SULPHITE, CELERY