Toulouse Saucisse
£6.90
Recommended Smoking Sausage.
Only 28 left in stock
Description
500g Pack
This is Toulouse like you've never had before.. We're this new improved recipe. Specifically produced into thick chunky sausages they're a super Barbecue product, that go so well with a lick of smoke.
The sausage itself is made with specially selected cuts of juicy Chicken and Pork that's mixed with our special spice mix, fresh Garlic, white wine, fresh herbs and a sqeeze of fresh Lemon juice to set them off. An absolute favourite when sliced diagonally into finger picking slices. Try them with you favourite Dips during a party night, they're magic!
Information

Nutrition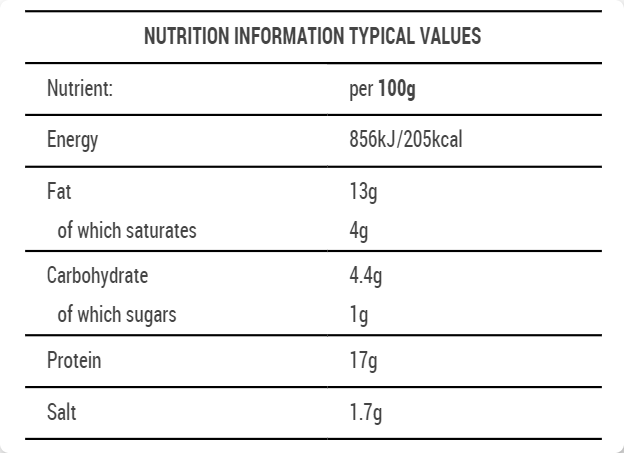 Ingredients
Chicken (38%), Pork (38%), Water, Sausage Seasoning (Salt, Rice flour, Stabiliser E450, Dextrose, Preservative E221, Spices (white pepper, nutmeg), Stabiliser E450, Flavour Enhancer E621, Antioxidant E300, Spice Extracts (pepper, nutmeg, coriander, cayenne), Pea flake, Water, Chives, Garlic, White Wine, Garlic and Herb Seasoning (Salt, Sugar, Black Pepper, Oregano, Basil, Lemon powder, Onion, Garlic, Red Pepper, Sage, Bay, Fennel, Rosemary, Tomato granules, Celery, salt, Flavour Enhancer E621, E631)
Contains: SULPHITE, CELERY